Articles
Published September 19, 2011
| Multidisciplinary
APOP Celebrates 30 Years of Pedagogical Innovation!
The year 2011-2012 marks a major milestone in APOP's history of visionary pedagogical practice. Since 1982, the work of this non-profit organization has left its mark on the college network, both public and private, as well as on many universities. APOP's founders were dreamers united in the conviction that the massive computers of the time, which could occupy an entire classroom, would soon be processing vast amounts of pedagogical information, quite different from the tasks of simple academic data management. They were often perceived as utter extra-terrestrials whose mythical and surreal seminar topics promoted strategies which integrated computers into teaching and learning. We now must acknowledge that their faith and passion did finally move mountains, long before the industry and global market showed interest in the individual and pedagogical uses of the computer.
Before reaching this turning point, however, trial and error resulted in more or less successful endeavors. Against all the skeptics and even the outright detractors, the members of this professional association have resolutely pursued their work and explorations, convinced that users would soon see the benefits of integrating technology into education. They became pioneers and visionaries! Hard work has marked every step of a path filled with promise as well as risks and limitations. Could anyone in 2011 claim to be able to do without digital tools in the creation and delivery of pedagogical activities? Computers are now a part of all aspects of our social, economic and cultural lives, and the field of education contributes more than ever to this great evolution, which has had a huge impact on cognitive processes, learning methods, communication systems and collective networking.
The personal computer, a wonderful discovery, at APOP seminar in Limoilou, 1986!
The computer is now omnipresent in and around our schools. Yet, the same questions and issues remain today as at APOP's beginnings.
What are the best practices and most adequate uses of technology in teaching?
How do we make the most out of computers and digital environments to foster learning and academic success?
How do we plan and develop efficient strategies and pedagogical scenarios to support teaching given the overabundance and diversity of information?
How do we integrate the digital world into a pedagogical perspective that is both constructive and contributive?
APOP tries to answer these many questions day after day, year after year, relying upon the collaboration, the creativity and the sense of wonder and discovery of postsecondary education professionals.
In this celebration year, we will also once again highlight the contribution of end-users in pedagogical computer applications, as well as in the integration of digital solutions, activities which remain essential to the successful development of skills and knowledge.
Please join us in this vibrant and exciting adventure!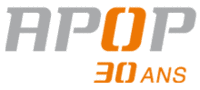 Logo for APOP's 30th anniversary
Celebrating 30 Years
As a first opportunity to mark this event, what could be more gratifying than a new revised website, designed to meet end-user needs, and created using open-source solutions! Don't miss the opening of the new APOP website by the end of October where a vast amount of activities will be offered all year long, and the automated development activities directory will prove to be an essential resource for your IT integration needs.
Visual layouts for the new APOP website... coming this October !
Relocated for the Long Term!
In 2007-2008, the e-conference 'U R on Line' changed the organization and communication aspects of APOP forever. The use of networked synchronous and asynchronous communication tools, as well as the creation of many online services (Collective Professional Development Fund (CPDF) activities, APOP_411, APOP_NetTalk) on APOP_online, rely on the proficiency and the devoted work of the APOP Management Team. This team has expanded with the arrival of many new collaborators in the past two years, who are now gathered in one location, the Bellevue Complex, 1605 chemin Ste-Foy, Quebec City. Relocated last August to a new functional space, well adapted to the organization's mission, it is more than ever able to answer all users' IT support requests.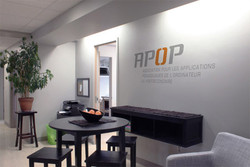 APOP's New Quarters!
Please join us in this vibrant and exciting adventure! Please feel free to visit and have an off-line 'chat' with us. There's always a warm welcome waiting for our visitors!