Articles
Published November 17, 2008
An APOP 'Caravan' in English!
APOP is producing its unique on-line real-time IT skills seminars, a caravan, uniquely in English using the VIA video teleconferencing system. Available to more than 500 anglophone teachers in the Quebec College Network from January 13 to 15, the seminars will target strategies to integrate IT into learning activities as well as IT pedagogical scenarios. A noontime conference and a round table discussion will complete the program.
The seminars will target strategies to integrate IT into learning activities...
This APOP Caravan is specifically targeting ESL teachers as well as instructors of ESP(English for specific purposes) in technical programs. The program is also reaching out to teachers in modern language departments who work in English although their discipline is German, Spanish, Russian, Arabic or another language. The courses, however, are open to anyone in the network who is fluent enough in English to profit from the instruction. The caravan is a great way to not only learn about IT in Education but to meet other colleagues who share an interest in the subject.
thanks to the simple and highly interactive user interface providing stimulating real-time exchanges.
During the seminar's three days, thanks to the simple and highly interactive user interface of VIA video teleconferencing, access to stimulating real-time exchanges and on-line collaboration can be done without leaving your home or office. It's like being at a conference with no time lost to travel. Training sessions in the use of VIA will be given in December and January so that participants can participate fully during the activities.
An Internet connection, headphones equipped with a microphone and a webcam are required equipment for participants. The document about Technical Requirements as well as other information on the tools and the on-line environment of these activities are available on the APOP website.
APOP Welcomes Its New Anglo Project Manager!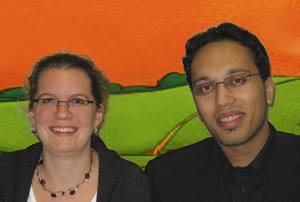 Véronique Pagé and Shujaat Wasty
Beginning early in November, the APOP team adds a new member. Based in Montreal, Shujaat Wasty will team with Véronique Pagé in Quebec City to serve the anglophone community.
A student in the master's program in Educational Technology at Concordia, Mr Wasty taught about pedagogical applications of IT for a diverse clientele including the anglophone community.
Look for Shujaat Wasty at anglophone colleges during the upcoming weeks. He'll be there to answer your questions about January's caravan as well as any other information that you might require about APOP's continuing education program. Please feel free to contact him at itactivities@apop.qc.ca.
Use our Reader Response Feature to share your feelings about this dynamic new program specifically targeting the anglophone community!