Articles
Published April 25, 2011
| Multidisciplinary
A Short Glossary of Terms Drawn From Our Chatrooms
Peripherals: Essential Tools for communicating on the web. A microphone-equipped headset allows you to remove yourself from your surroundings and to have good reception quality. The microphone, in your headset or built into your computer, ideally ensures the interference-free transmission of your comments. Ultimately, however, the goal is to be unhindered by hardware, and videoconferencing tools under development will soon make this possible. Getting this equipment is as simple as visiting your academic cooperative or bookstore if your audiovisual counter or IT Rep doesn't have what you need. In all of our continuing education activities [13 anglo in 2011-2012], participants [257] had to use these peripherals because they are essential for communication and interaction.
APOP Management Team: Our friendly and knowledgeable resource people deliver technical assistance and educational support when you need it. It is always impressive to see how quickly and effectively our team fields your questions and requests for support. You'll feel that these contacts are just waiting for your call, and that distance is no limit to solving your problems.
Net Talk: Stimulating online meetings [12 anglo talks - 222 participants in 2010-2011] with a diverse group of presenters discussing a wide range of IT successes and challenges in teaching and training! Trendy subjects and topical issues are raised causing heated discussions fueled by the contributions and skills of selected resource people and other contributors, be they leaders or participants!
APOP_junket: One way to enjoy Net Talks is on replay because the activities are presented in video segments [150 video clips available]. The collection is a sort of educational "YouTube", one that allows users to take the pulse of the various players in the integration of IT within higher education.
Moodle: Among the professional development workshops on APOP_online, Moodle for beginners was offered to discuss the features of this learning platform for course or program activities designed with the needs of teachers and students in mind. The participants' enthusiasm clearly demonstrated the interest in this updated techno-pedagogical application.
APOP_411: This unique service for a quick ICT fix is especially invaluable when time is short, and your deadline is visibly approaching. Get help from peers in your field or in another college or ask resource people available online with a click of the mouse, by phone, Skype or APOP_online. Once you use the service [52 calls for consultations or reference in 2010-2011], you'll be sure to want to adopt it!
Do you have any other comments to add to this spontaneous chat?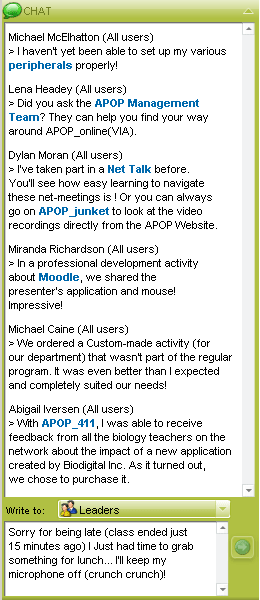 APOP Chatroom