Articles
Published January 18, 2018
| Multidisciplinary
3 Platforms to Create Video-Based Tasks that Actively Engage Students
In 2018, cell phones, tablets and computers combined with free applications or software give us the ability to create high quality video and broadcast it within moments. The internet gives us access to vast free video resources. Yet in spite of these technological innovations, students still consume digital media mostly passively in classroom settings. Three free online platforms allow you to create different types of video-based tasks that engage your students more actively.
Provide Insight and Spark Discussion with VideoAnt
VideoAnt is a free web-based video annotation tool for mobile and desktop devices developed by the University of Minnesota. It works best with Chrome or Safari browsers and allows users to add annotations, comments and questions to any publicly accessible web-hosted video. You can also annotate your own YouTube videos uploaded with the "Unlisted" privacy setting. This is particularly useful if you produce your own video tutorials or screencasts and want to restrict access.
After signing in to the platform using Facebook or Google authentication, users access their "Ant Farm," which allows them to create and save collections of annotated videos, called "Ants." These can be easily created by pasting the URL of the original video in the Load New Ant field, which automatically opens the platform's editor.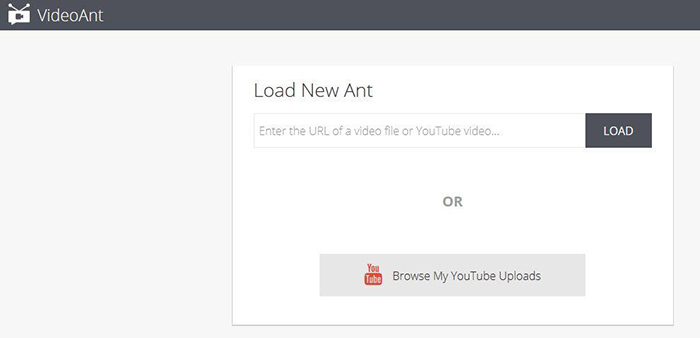 Create a new annotated video by pasting the URL to the original in the Load New Ant field.
The intuitive editor contains a video player, a timeline and play controls. Select the Annotate button every time you wish to create a new annotation. The video automatically stops playing and a new annotation form opens on the right side of the screen. Once the user clicks the Save button, the video automatically starts to play again. Each annotation is associated with a timestamp, indicated by a blue marker on the timeline that appears under the video.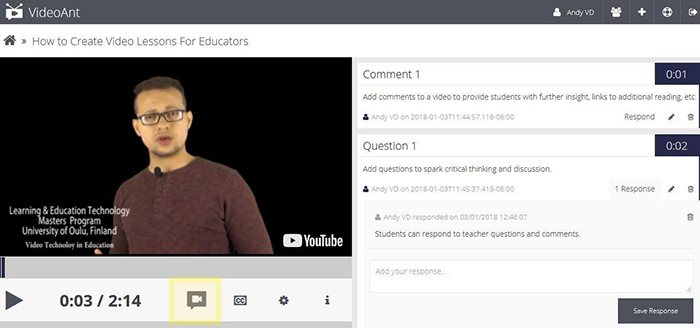 Add annotations by clicking the Annotate button (highlighted in yellow) underneath the video.
Ants are automatically saved as you add annotations. As the owner, you can easily distribute your annotated video by generating a share link, or by directly embedding the Ant on a blog or LMS. At that point, you can also determine the access rights you wish to give.

Ant owners can easily control the level of access they give to other users.
Depending on the access rights given, students can add their own annotations to the Ant, comment on existing annotations only, or simply view. The annotate and comment features allow for several pedagogical uses:
Present additional information and links to external resources in video tutorials.
Ask open-ended questions and collect students' answers and insights using the Response function. These comments are presented in the same fashion as on social networks, which encourages online discussion. VideoAnt also makes it easy for the teacher to compile responses.
Get students to annotate a video with their own questions – individually or collaboratively.
Get students to annotate their own work as part of a self-assessment or peer-assessment strategy.
Quiz Students as They Watch with EdPuzzle
Edpuzzle is a free video lesson platform developed specifically for educational settings. Teachers need a computer to design lessons around online video content, but students can also access lessons on mobile devices. Because the platform offers learning management system features and analytics, all users need to sign up for a free account. Teachers need to generate and share a class code with their students to give them access to their video lessons.
From the main menu, use the Create button to set up a new lesson based on an online video (EdPuzzle supports YouTube, Vimeo, and TED, among others), or upload your own material.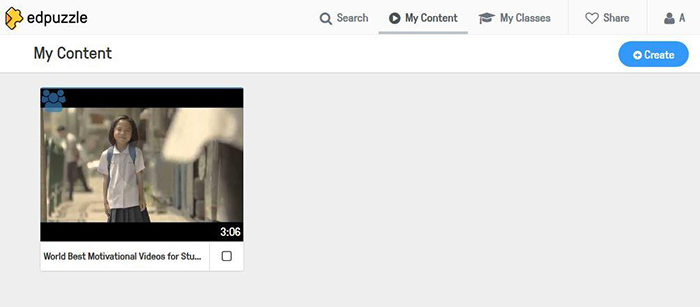 From the main menu, create new video lessons and consult or edit existing lessons.
The editor allows you to manipulate the video used for your lesson in different ways:
Crop the video at the beginning and end.
Add audio comments or an entire audio narration track directly from the platform, using a microphone. This is particularly useful if you wish to use a screencast.
Embed images, PDF documents or hyperlinks.
The Quizzes button, represented by a question mark, allows you to make your lesson interactive and engage your students. Once selected, this function displays a clickable arrow on the timeline underneath the video. Pause the video whenever you want to add a question, then click the green button. Questions can be open-ended or multiple-choice. You can also add feedback that will be displayed as soon as a student answers the question. Multiple-choice items are automatically graded, and teachers can consult their students' scores.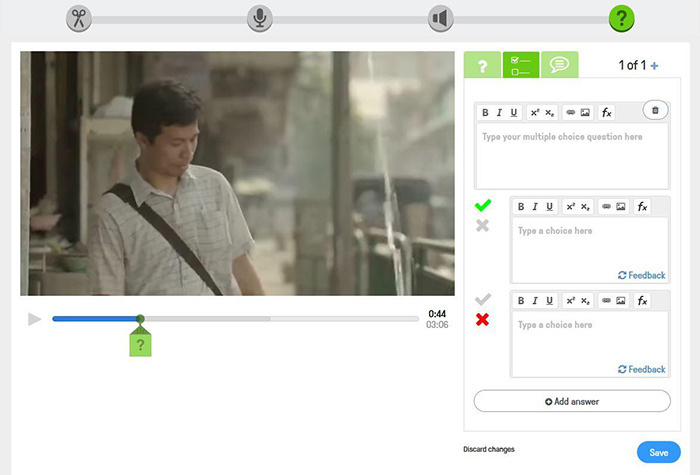 EdPuzzle allows you to embed multiple-choice questions that are automatically graded.
Video lessons can be shared freely by generating a link or embed code; you can also assign them to a specific student or group of students. Other teacher controls include prevention of skipping, which obliges students to answer the questions before resuming playback, and setting a due date, which is useful in a flipped teaching approach.
EdPuzzle offers several options to assign a video lesson.
EdPuzzle takes a familiar format – answering comprehension questions – to the next level by integrating these questions with the actual video content. This keeps students active as they watch, and the element of gamification increases motivation. Vizia is another free platform that offers similar features. TED-Ed also allows users to create video-based lessons, but questions cannot be associated with specific timestamps, and student answers are not collected.
Facilitate Collaborative Note-Taking with VideoNot.es
Finally, VideoNot.es offers students the possibility to collaboratively take notes on video content from YouTube, Vimeo and popular MOOC platforms. There is no sign-up procedure, but users need to have a Google account and give the platform permission to connect with their Google Drive, where "VideoNotes" are stored. Because of this integration, the platform is especially effective if your students already use Google apps in your course.
To get started, students simply paste the URL of the video they wish to take notes on and click the Load button. This opens the video and text editor side-by-side. Notes taken are automatically synchronised with the video. Students can click on saved notes to jump to the relevant part of a video, while dragging the marker to a specific timestamp brings up the notes taken on that selection.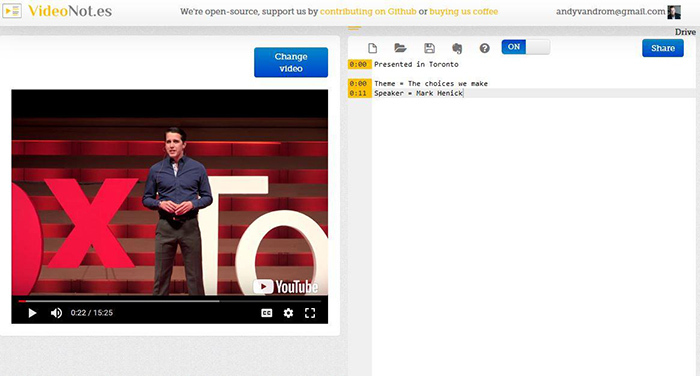 Notes are automatically timestamped and synchronised with the video.
Saved notes can be shared with others in the same way as Google Docs. This enables collaborative editing or commenting and makes VideoNot.es a powerful tool for students to work with more elaborate video material as part of a team assignment or active learning approach.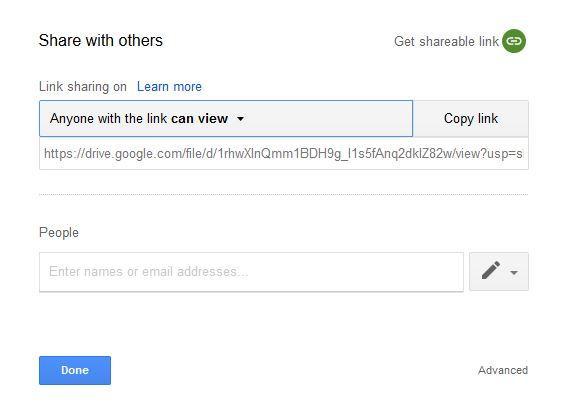 Notes can be shared and collaboratively edited as any Google Doc.
Promoting Active Watching
Countless platforms allow teachers to conveniently find, upload and distribute video content online. The added value of the presented tools resides in the fact that they make it possible to associate questions, comments, quizzes and notes with specific passages in a video. This allows students to truly interact with the video content, rather than passively consuming it. What are your preferred video-based tools or activities?