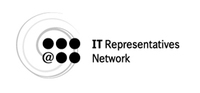 Go to website of IT Rep
Mission
The IT Rep/REPTIC Network is a community practice of pedagogical counsellors responsible for the integration of ICTs into Quebec colleges. IT Reps work with teachers at their school to support the pedagogical integration of ICTs. The IT Rep also ensures that the resources of ICT partners have concrete benefits in their setting.
Operating in a spirit of collaboration, IT Reps design frames of reference and resources based on the needs expressed. The work carried out by members of the Network is available to the entire college network.
Defining the IT Reps Network
The IT Rep at your institution is a pedagogical counsellor who is there to support your use of technology for educational purposes. See your IT Rep if you want advice on any of the following:
Renewing your pedagogical approaches
Putting together a pedagogical activity that integrates ICTs
Discovering virtual learning spaces you could use with your students
Keeping track of students with difficulties
Developing the information and technology skills of your students
Getting new teaching and learning resources
Creating lecture notes accessible on the web
Sparking student interest and motivation
Promoting the development of student cognitive and methodological skills
Developing teaching materials for your courses
Promoting collaborative work among your students
Teaching in the context of a program approach
Using a learning portfolio
Keeping track of students in internships
Preventing plagiarism
ICTs can help you to achieve each of these objectives, and many others. Talk with your IT Reps!
Thanks to the IT Representatives' Network, IT Reps from all Quebec colleges exchange information and work as a team to help meet teachers' needs.
The REPTIC Team
In addition, consult the IT REP Directory at each of the network colleges.
Contact Information
Telephone : 514 381-8631, ext. 2387
Email : reptic@fedecegeps.qc.ca
Website : www.reptic.qc.ca
Twitter : @REPTIC
Postal Address
Fédération des cégeps
500, boulevard Crémazie Est
Montréal (Québec) H2P 1E7