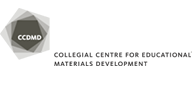 Go to website of CCDMD
Mission
The Collegial Centre for Educational Materials Development (CCDMD) produces both computer-based resources and printed documents for teachers and students of the Quebec college network.
The CCDMD's mission is to ensure that CEGEP students have access to quality educational materials, in English and French, and to contribute to the production of these resources.
The CCDMD produces materials for students in a wide range of courses and programs of study. It also produces documents contributing to the improvement of English- and French-language skills.
These services are funded by Québec's Ministère de l'Enseignement supérieur, de la Recherche, de la Science et de la Technologie and, in some cases, benefit from contributions from the Canada–Québec Agreement on Minority-Language Education and Second-Language Instruction.
Defining the CCDMD
The CCDMD provides a wide range of quality resources to both teachers and students.
The CCDMD catalogue contains the following academic resources:
Discipline-specific resources for more than 150 programs
Resources for English-language improvement
Resources for Help Centres (English and French)
The CCDMD developed Netquiz Web, a multilingual, multi-platform and multi-user web-based application that allows for the creation of formative on-line quizzes. With Netquiz Web you can easily create exercises, quiz games or formative tests with multimedia, and to publish them on the web with a few simple clicks. Try it out to make your courses more engaging!
The CCDMD also manages the World of Images website, a collection of copyright-free images that can be used for the production of quality educational material. It contains more than 55,000 items, including photographs, videos, illustrations and PDF documents. Teachers, students and other academic personnel contribute media to the World of Images website, as well as the CCDMD, which contributes with visual materials such as images and tables from the resources that it publishes. Take a look at the World of Images catalogue to discover media that might be helpful in your course or course notes!
Finally, the CCDMD supports teachers who want to develop printed or computer-based materials. Teachers can present their projects as part of the Call for Projects, which is held each year from November to March.
The CCDMD Team
General Information
Administration
Resource Development Team
Contact Information
Telephone: 514-873-2200
Fax: 514-864-4908
Email: info@ccdmd.qc.ca
Website: www.ccdmd.qc.ca/eng
Facebook: Collegial Centre for Educational Materials Development (CCDMD)
Twitter: @ccdmd
Postal Address
3800, rue Sherbrooke Est, D-3707
Montréal (Québec) H1X 2A2