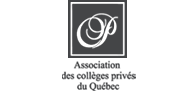 ACPQ Theme Day
ACPQ | Symposia and Congresses
This year the theme is Innovative Practices in Learning Assessment. The purpose of the second edition of the ACPQ's theme-based events is to give private-college teachers, professionals, and administrators an opportunity to network and hold in-depth discussions, with a view to fostering the widespread implementation of best practices and thereby benefitting our students and institutions.
Place: Bibliothèque et Archives nationales du Québec (La Grande Bibliothèque)
View the schedule (PDF).